Tim Hetherington, Photojournalist and Director of Restapo Killed in Libya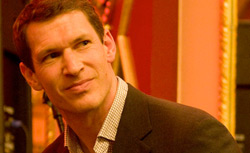 Tim Hetherington photo courtesy Slate.com
His video collage,
Diary (2010)
is profound, haunting, intriguing... and in his own words "was made as an attempt to locate myself after ten years of reporting. It's a kaleidoscope of images that link our western reality to the seemingly distant worlds we see in the media." Well worth your time to view. RIP Tim Hetherington. We are better humans for having seen parts of the world through your lens.
Orlando Gas Station Charges $5.69 a Gallon
- It's bad enough that gas prices continue to rise, but this station is situated near the airport and [allegedly] is targeting people in a hurry to gas up their car rentals before returning them. By contrast, the average gas price at other stations in Orlando is almost $2 per gallon cheaper.
Probe: ATF Urged Legitimate Gun Dealer to Sell Weapons to the Bad Guys
The ongoing investigation surrounds a number of emails between the Bureau of Alcohol, Tobacco and Firearms and
Explosives
and a legitimate gun dealer in Arizona that expressed his fears that his guns were falling into the hands of the bad guys, mainly south of the border.
Blue Bloods Creators Exit Series
- Hey! I like that show! Tom Selleck as the patriarch of this very engaging "law and order" clan sits well with me, as does the rest of the casting. Hope the next headline we see isn't Blue Bloods Cancelled.
Snooki's Diet Plan: More Exercise, Less Clubbing (I'm not even adding a link to that one- the fifteen minutes of fame has got to be over, isn't it??!) I really wish I hadn't read that headline...I just wish that these types of "celebrities" never made the headlines. Period.